100% Safe & Genuine
We sell Medical Grade Skincare which are sold by doctors only.
Get $100 off treatment
Refer a friend and enjoy $100 off for both of you.
VIP Membership Benefits
Enjoy special bonuses and unique discount coupons.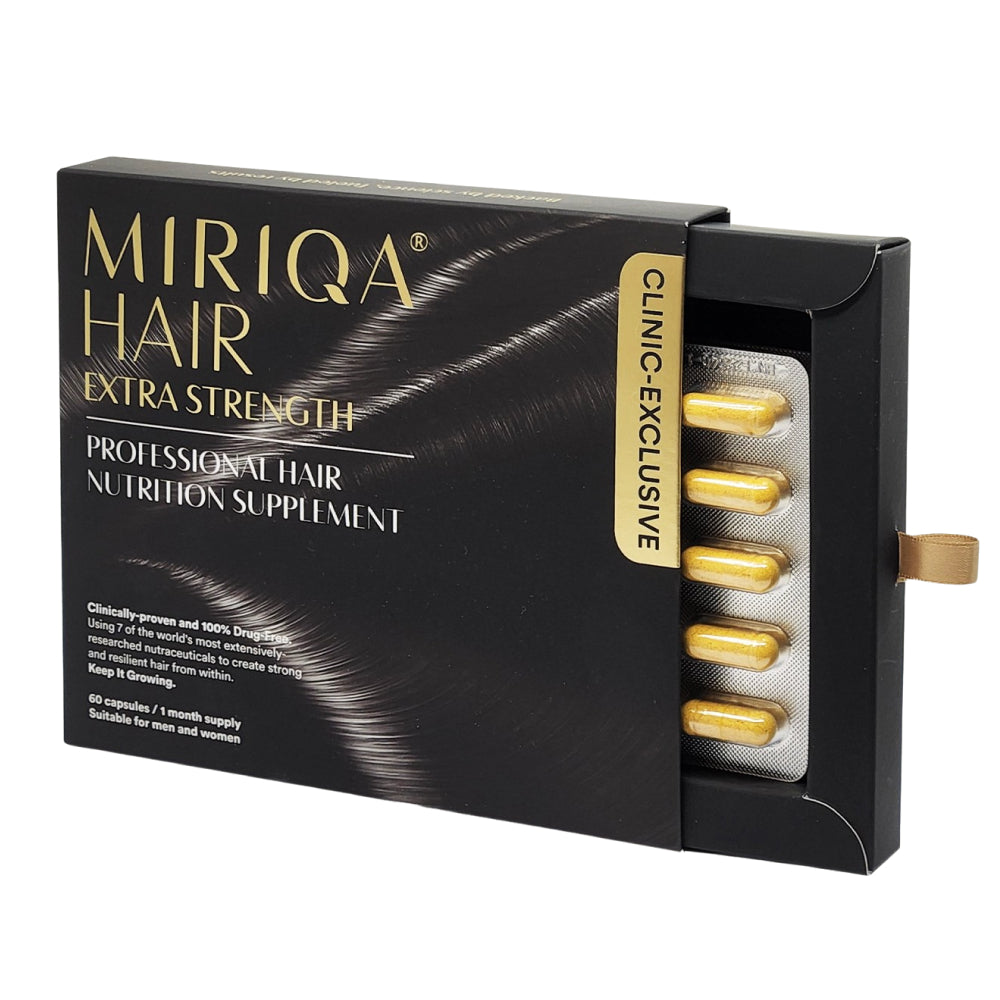 MIRIQA® Hair Extra Strength Professional Nutrition Supplement (Clinic-Exclusive)
Regular price
Sale price
S$145.00
Unit price
per
check_circle In Stock
cancel Sold out
Free Pick Up at The Artisan Wellness — (435 Orchard Road, Wisma Atria Office Tower, Singapore)

Usually ready in 24 hours —
Free delivery — on all orders over

S$120

!
Secure checkout with
Strengthen. Multiply. Shine. And keep it Growing.
Improve hair growth, naturally. 100% drug-free nutraceuticals, clinically-proven to promote hair growth, thicken hair shafts, and improve volume and shine.
Using 7 of the world's most extensively-researched nutraceuticals to create strong and resilient hair from within.
From the maker of multi-award winning hair supplement.
This product is available only through authorised medical clinics only.
Power-packed with all the clinically proven nutraceuticals to deliver growth, in extra doses – Tocotrienol, Tripeptide Collagen, Saw Palmetto Berries, Keratin Forte, Biotin.
And loaded with TWO NEW star ingredients; KSM-66 Winter Cherry and Curcumin Bio-max – extensively researched for reduction in cortisol levels, to build greater resistance to stress-induced hair fall, and to promote better, healthier hair growth.
Super charging your hair growth.
Suitable for both men and women.
MIRIQA®
 

natural approach is clinically proven to support your hair growth.
Addressing hair issues at its roots.
---
Miriqa® Professional Hair Nutrition Supplement
Just 2 capsules a day for
Reduced Hair Loss

Increased 

Hair Growth

Improved Hair Strength

Improved Hair Shine
MIRIQA
®
 Hair Extra Strength may be the solution for you if:
You are genetically predisposed to premature inhibited hair growth.
You are suffering from retarded hair growth due to stress
You are more prone to brittle hair and weak nails.
---
Ingredients
Saw Palmetto Berries
Saw Palmetto Berries are believed to inhibit Type 2, 5-alpha-reductase, an enzyme that converts Testosterone to DHT which is destructive for hair follicles.
The conversion of testosterone into DHT can be destructive for hair follicles, as hair follicles become miniaturized, resulting in thinner hair shafts.
Saw Palmetto Berries can be a good alternative for individuals in whom 5-alpha-reductase inhibitors cannot be used. Unlike 5-alpha-reductase inhibitors, Saw Palmetto Berries is safe for consumption for women
KSM-66 Winter Cherry
World's best Winter Cherry with the most extensive research and studies done.
Reduces cortisol level and helps build resistance to stress, a major contributor to inhibited hair growth.
Keratin Forte 
These are the structural building blocks that make up the foundation of healthy hair so we'll need plenty of this.
Keratin is one of a family of fibrous structural proteins known as scleroproteins.
Keratin is the key structural material for making up hair and nails.
Keratin also protects epithelial cells from damage or stress.
Ingestible Keratin has been shown to reduce hair loss, increase hair strength and increase hair brightness.
Tocotrienol
Volunteers saw a 34.5% increase in mean numbers of hair, after 8 months of supplementation. While the mean number of hairs remained or declined for those in the placebo group, volunteers on Tocotrienol saw a significant increase in hair counts especially from month 4 to 8.
40% of subjects showed hair increases of more than 50%.
Biotin
Biotin is an essential micronutrient, also known as Vitamin B7, a vitamin that is needed for beautiful hair and skin.
Curcumin Bio-Max
Super antioxidant
Rejuvenate hair follicles
Works synergistically with Saw Palmetto Berries to arrest DHT formation
Superior bioavailability (more than 700% compared to other curcumin formulation)1

1. Pascale FB, Mathieu T, Sabrina Le BB, Alexis M, Corinne M, Angelina D, Hélène C, Julie L, Richard B. Pharmacokinetics of a single dose of turmeric curcuminoids depends on formulation: Results of a human crossover study. The J of Nutri. 2021: 1802-1816
Tripeptide Collagen
Just like the skin on your face, the scalp also loses collagen as you age, resulting in slower hair growth and dormant hair follicles.
When collagen production slows down (around age 30), the strength of your hair follicles can be affected. Collagen makes up more than 70% of the dermis at the hair roots. Collagen is alike the scaffolds required for a strong and healthy scalp. Reduced collagen levels over time leads to diminished hair growth and thinning hair.
The unique Tripeptide Collagen has a low molecular weight which makes it very easy to absorb into the body, as compared to other collagen products with much larger molecules that make absorption difficult.
Clinical studies have shown increase in thickness of hair shafts in volunteers after consuming Tripeptide Collagen.
Miriqa®'s proprietary blend of 100% drug-free nutraceutical ingredients is clinically-proven to improve hair growth.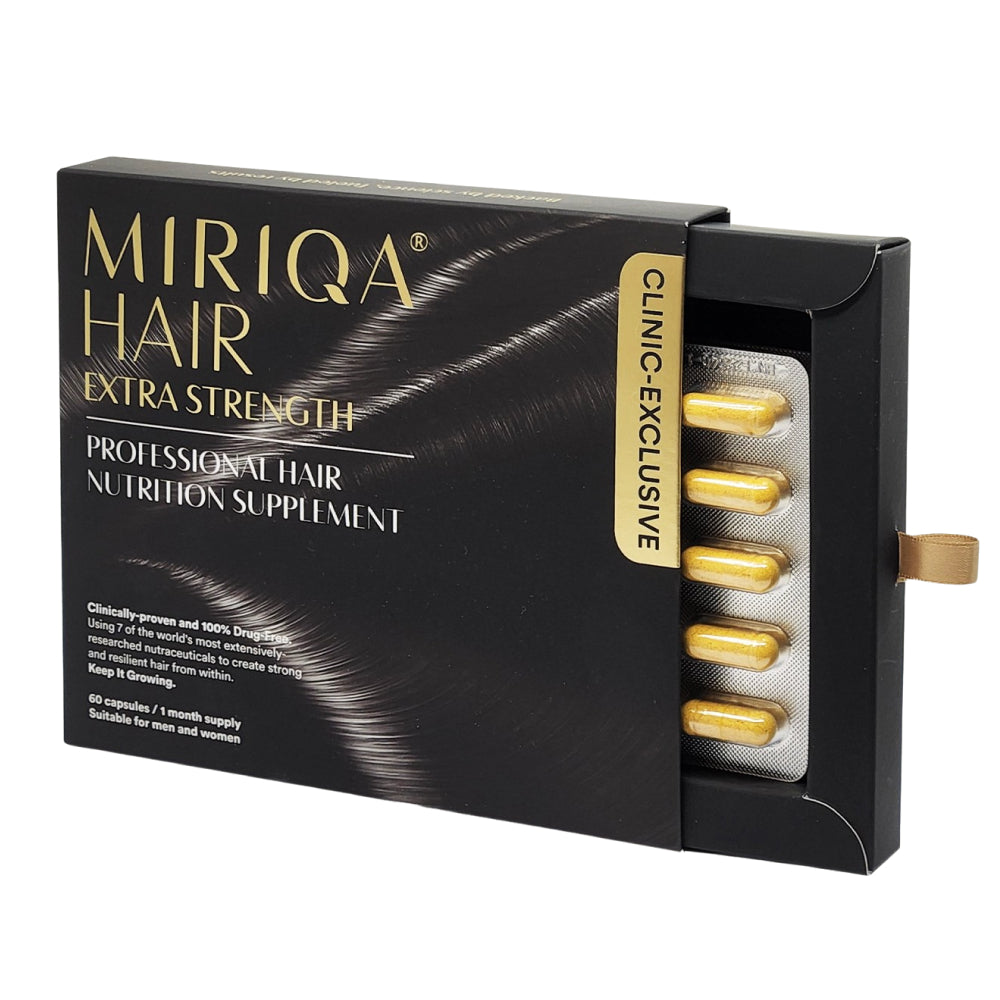 When will you restock?

Want to purchase a product but it is out of stock?

Kindly check with us

if any of the product you wish to purchase is out of stock, or
if you wish to find out whether a product will be restocked, or
when will the new stock arrive.

Whatsapp us now, our friendly team will be happy to assist you!
Can I pick up in store?
How long will it take to ship to me?

We usually fulfil customers' orders within 3 business days after payment is received.

Have further questions? Whatsapp us now.
What is your return policy?

Our returns policy lasts 3 days. If, for whatever reason you are not completely satisfied with your product, we are happy to offer a credit on goods returned to us within 3 days of purchase provided they are in their ORIGINAL packaging, unopened and unused condition.

Kindly email us at theartisanwellness@gmail.com or call us at +65 98187887 prior to any returns.

Refunds are not allowed.

To complete your return, we require a receipt or proof of purchase.

Please do not send your purchase back to the manufacturer.