100% Safe & Genuine
We sell Medical Grade Skincare which are sold by doctors only.
Get $100 off treatment
Refer a friend and enjoy $100 off for both of you.
VIP Membership Benefits
Enjoy special bonuses and unique discount coupons.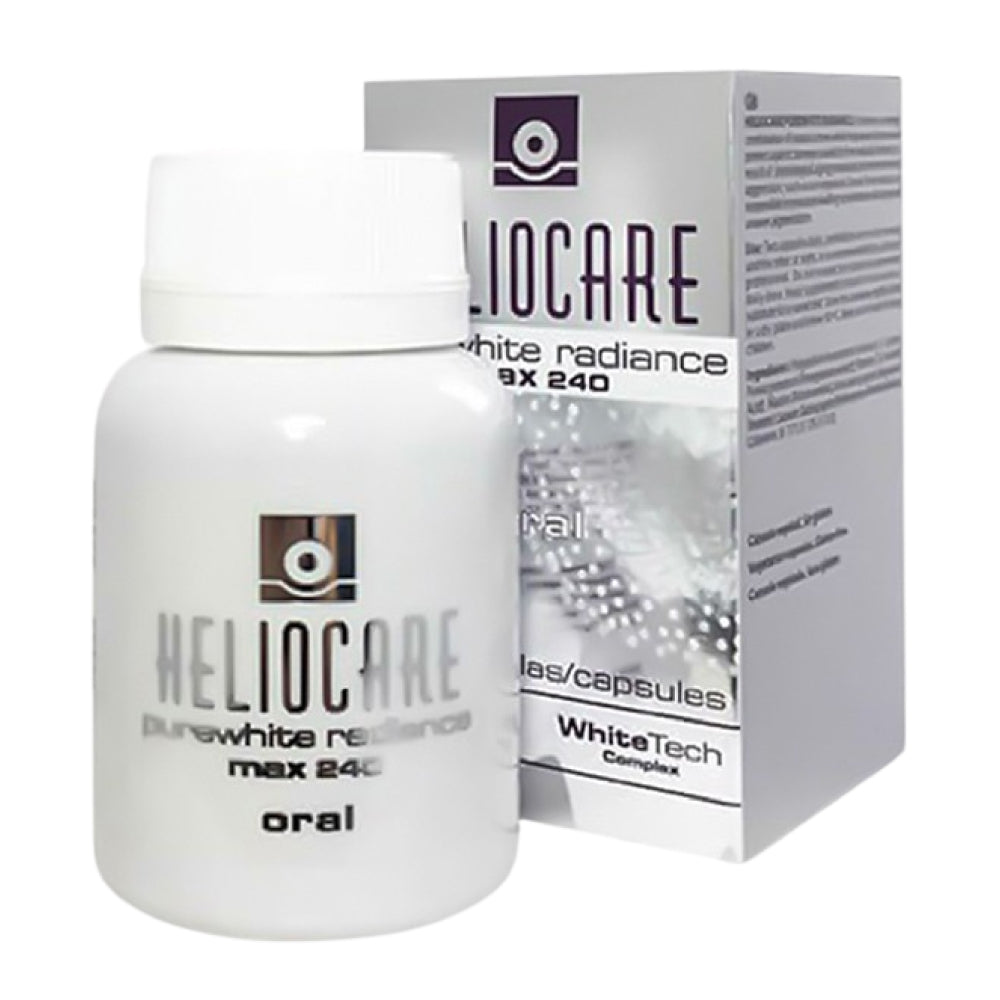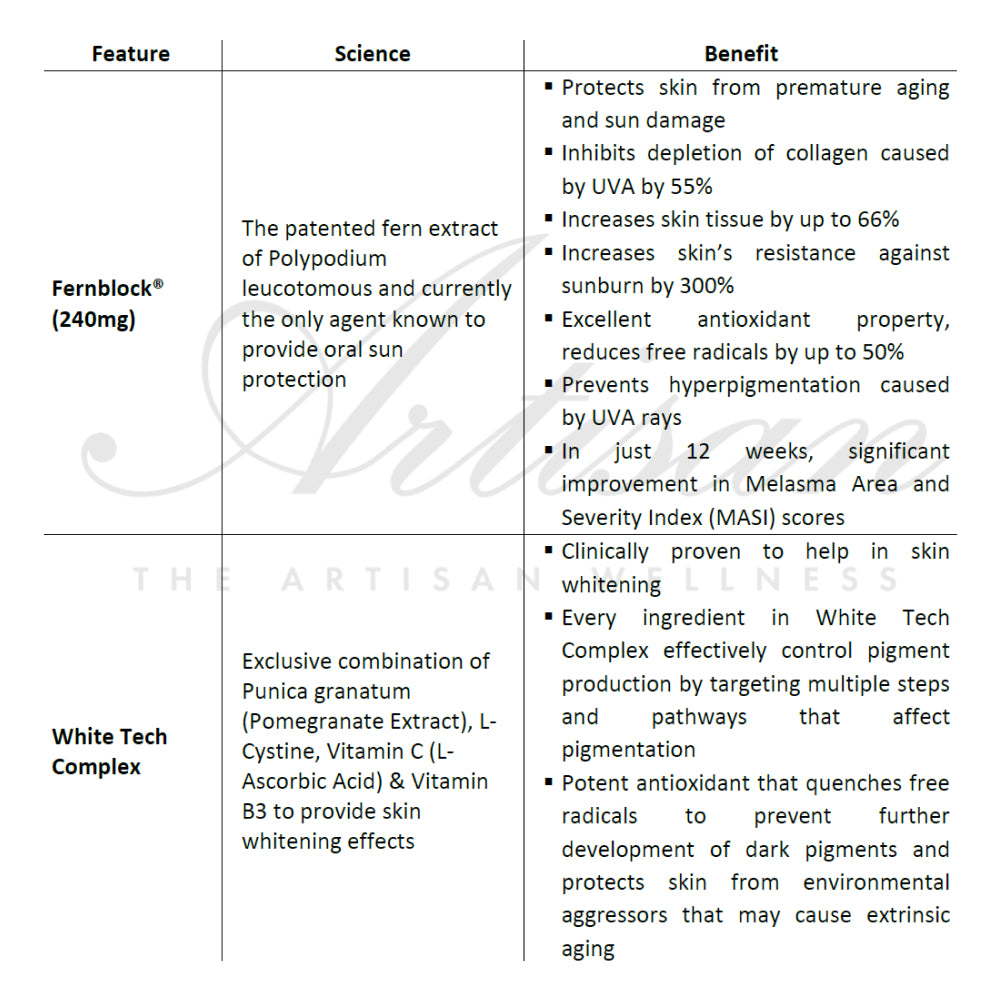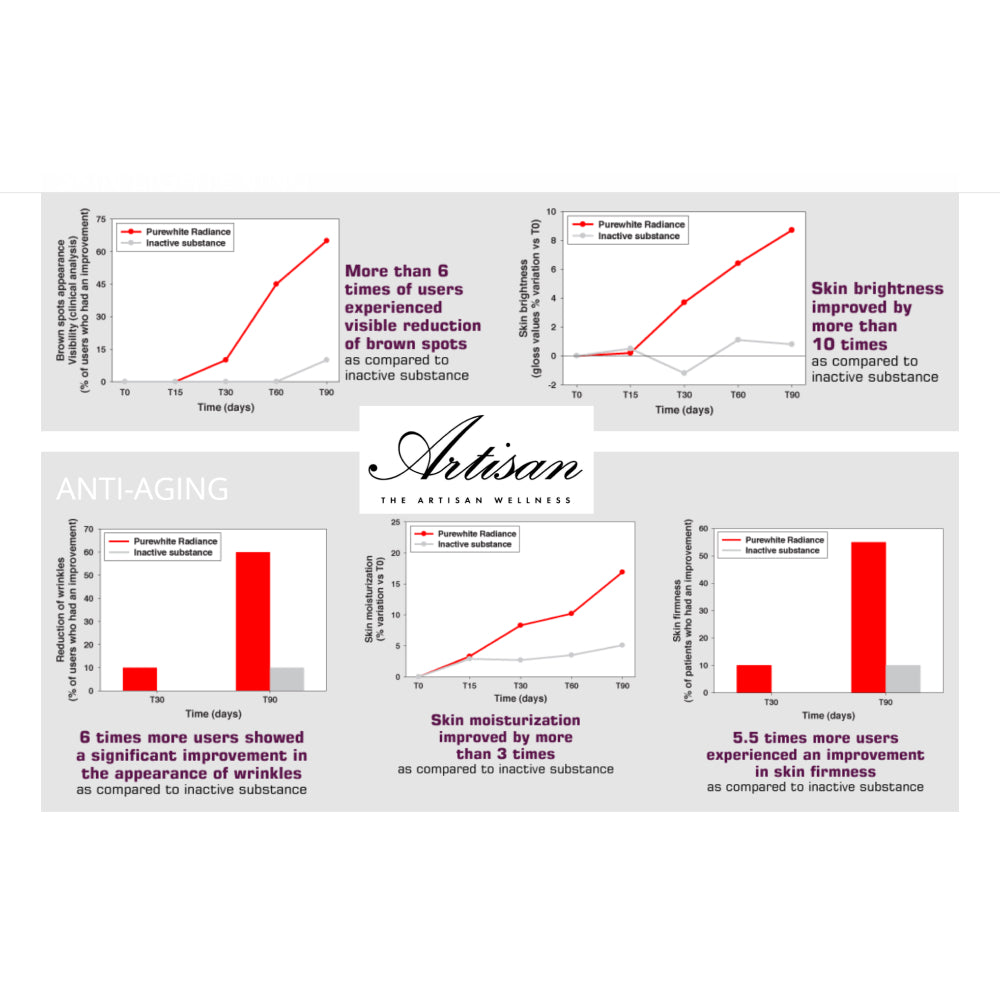 Heliocare Pure White Radiance Max 240
Regular price
Sale price
S$130.00
Unit price
per
check_circle In Stock
cancel Sold out
Pickup currently unavailable at The Artisan Wellness
Free delivery — on all orders over

S$120

!
Secure checkout with
Oral Sunblock & Whitening Supplement
This product is available only through authorised medical clinics only.

Through the combination of the exclusive technology
FERNBLOCK + WHITE TECH COMPLEX
, not only are we able to attain the fairness you desire, there are also additional anti-aging and photoprotection benefits that will aid in achieving a firmer, plumber and younger looking skin.
Skin Lightening
Placebo-controlled assessment of the efficacy of a dietary supplement (Purewhite Radiance) in reducing the visibility of skin blotches and creating a more even complexion.

Anti-Aging
Heliocare Purewhite Radiance demonstrates improvement in skin moisturization, skin brightness, skin elasticity and reduces water loss through our skin.
These parameters are associated with decrease of skin blotches (whitening effect) and wrinkles (anti-aging effect).
The study was clinically evaluated by dermatologists, confirming the visible effects of the product on skin blotches and wrinkles. Heliocare Purewhite Radiance is a safe and effective treatment that combines different technologies with strong scientific support.
Data on file Industrial Farmacéutica Cantabria, S.A. Prof. F.Marzatico, Dr. E.Cestone & Dr. V.Nobile
---
Fernblock has been extensively researched and developed in collaboration with Harvard Medical School for more than 12 years. Its efficacy has been demonstrated by numerous clinical trials published in leading international scientific journals.
Fernblock is the first oral agent that has shown abilities to quench free radicals and decrease the development of hyperpigmentation.
100% Herbal, Extract of Polypodium leucotomos
Increases skin's resistance against sunburn by 300%
Decreases pigmentary response in our skin
Prevents and repair DNA damage induced by harmful UV rays
Excellent antioxidant property, reduces free radicals by up to 50%, preventing formation of hyperpigmentation caused by UV rays
Inhibits MMP-1 that is responsible for the degradation of collagen, providing anti-aging benefits
Protects the fibroblast in our skin and enhance the stimulation of collagen and elastin, resulting in a firmer and plumber skin
A study has shown that reduction in melanin intensity was 68% greater in users consuming Fernblock + topical sunscreen as compared to Placebo + topical sunscreen. This demonstrates the efficacy of Fernblock and its ability to skin whitening.
Clinical Study
Under intense UVA exposure, patient was found to have significantly less hyperpigmentation developed after 48 hours and 4 months when Fernblock® is consumed for protection.
Synergic combinations of exclusive active ingredients which help fight free radical damage, slow skin aging and control pigmentation. It acts directly to control all factors involved in the production of dark pigments in your skin.
1. Punica Granatum (Ellagic Acid)
Clinically proven as a safe and effective skin whitening agent.
Inhibits the activity of tyrosinase (the main enzyme of melanin production), which then prevents the formation of dark pigments.
Strong antioxidant properties that neutralize free radicals caused by environmental aggressors and also help in enhancing skin whitening.
2. L-Cystine
A whitening agent which intercepts the formation of melanin, reducing the production of dark pigments, enhancing skin whitening.
Precursor of Glutathione, a potent antioxidant which plays an important role in the regulation of melanin production in our body.
After the formation of Glutathione, it directly aids in the inhibition of tyrosinase synthesis and activity. This directly reduces production of dark pigments - the cause of hyperpigmentation and skin darkening.
3. Vitamin C (L-Ascorbic Acid)
A potent and effective antioxidant that interferes with melanin synthesis, this decreases the melanin concentration in the skin, leading to a whiter looking skin.
Neutralizes free radicals from environmental aggressors and prevents collagen damage.
4. Vitamin B3 (Nicotinamide)
Inhibits transfer of melanin to epidermal cells (skin surface).
A study showed that Vitamin B3 has the ability to reduce hyperpigmentation and increase skin lightness compared with vehicle alone after 4 weeks of use.
Shown to decrease collagen oxidation and improve aging-induced yellowing of skin.
Pomegranate extract,also known as PunicaGranatum, has been extensively used in traditional medicines in many countries. It is especially rich in Ellagic acid, a naturally occurring polyphenol that possesses strong antioxidant properties. Ellagic acid has shown inhibitory activity in melanogenesis by suppressing tyrosinase activity, and it also inhibits the proliferation of melanocytes and melanin synthesis. This also meant that it will reduce the formation of dark pigments on the skin.
According to the clinical study, when Pomegranate extract is administered orally, it can be used as an effective and safe whitening agent for the skin.
When will you restock?

Want to purchase a product but it is out of stock?

Kindly check with us

if any of the product you wish to purchase is out of stock, or
if you wish to find out whether a product will be restocked, or
when will the new stock arrive.

Whatsapp us now, our friendly team will be happy to assist you!
Can I pick up in store?
How long will it take to ship to me?

We usually fulfil customers' orders within 3 business days after payment is received.

Have further questions? Whatsapp us now.
What is your return policy?

Our returns policy lasts 3 days. If, for whatever reason you are not completely satisfied with your product, we are happy to offer a credit on goods returned to us within 3 days of purchase provided they are in their ORIGINAL packaging, unopened and unused condition.

Kindly email us at theartisanwellness@gmail.com or call us at +65 98187887 prior to any returns.

Refunds are not allowed.

To complete your return, we require a receipt or proof of purchase.

Please do not send your purchase back to the manufacturer.