100% Safe & Genuine
We sell Medical Grade Skincare which are sold by doctors only.
Get $100 off treatment
Refer a friend and enjoy $100 off for both of you.
VIP Membership Benefits
Enjoy special bonuses and unique discount coupons.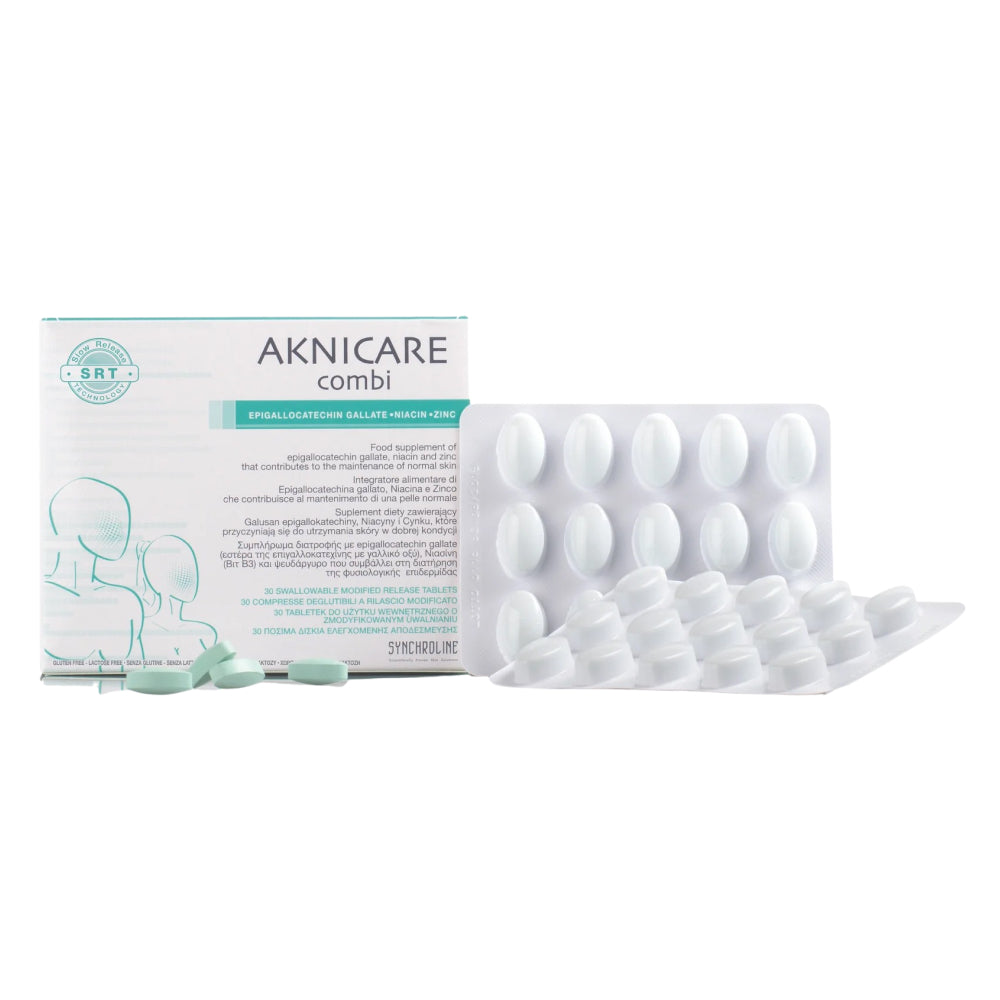 Regular price
Sale price
S$60.00
Unit price
per
check_circle In Stock
cancel Sold out
Free Pick Up at The Artisan Wellness — (435 Orchard Road, Wisma Atria Office Tower, Singapore)

Usually ready in 24 hours —
Free delivery — on all orders over

S$120

!
Secure checkout with
Prevent Acne + Food Supplement
Prevent acne with the fully natural Aknicare Combi Supplement (no medicine inside).
"I find it a very useful supplement for patients with acne-prone skin to reduce acne and pimples growth, if they want to avoid Roaccutane or Isotretinoin tablets (which have more risk)."
This product is sold exclusively in clinics only.
Credit: Image taken from here
Complementing your anti-acne regimen, Aknicare Combi targets the acne causing factors from inside out. The synergistic combination of Epigallocatechin gallate and Zinc gluconate targets the pathogenesis of acne and counteracts the effect of IGF-1 (Insuline-Similar Growth Factor). Bolstered with niacin, to improve overall skin health and skin barrier function to prevent bacterial activity on the skin.
Findings have shown that excessive IGF-1, a protein hormone produced by the liver, can multiply cells that can cause hyperkeratinisation (excessive dead skin cells) and excess sebum production. These are two key acne causing factors. 
The role of IGF-1 in the pathogenesis of acne
What is it?
IGF-1 (Insulin-like Growth Factor) is a protein hormone
produced by the liver in correlation with the levels of GH (Growth Hormone).
By what is it induced?
The synthesis of IGF-1 is also promoted by the consumption of
food with a high glycemic charge (pasta, etc...), milk and derivates (Western diet).
How does it act?
IGF-1 links with its receptor (IGF-1R), expressed at the level of
keratinocytes and sebocytes, stimulating their proliferation.
This contributes to the development of Hyperkeratinization, Seborrhea, bacterial activity and inflammation.
Hence, to reduce acne (pimples), we need to counteract IGF-1 and its effects.
Functional molecules of proven efficacy. 
| | |
| --- | --- |
| Epigallocatechin gallate | Zinc gluconate |
| Counteracts: | Counteracts: |
| Hyperproduction of sebum | Expression of IGF-1 |
| Proliferation of keratinocytes | Bacterial activity |
| Inflammation | Inflammation |
Aknicare Combi : A balanced food supplement of Epigallocatechin Gallate, Niacin and Zinc.
Aknicare Combi is based on a combination of Epigallocatechin Gallate (antioxidant, extract from green tea), vitamin B3 (niacin), and zinc (zinc gluconate), which reduces inflammation and contributes to the maintenance of normal skin and to the protection of cells from oxidative stress. 
| | | |
| --- | --- | --- |
| Substances with a nutritional or physiological effect | 1 tablet | % Daily recommended dose (*) |
| Epigallocatechin gallate | 75 mg | |
| Niacin | 18 mg | 112,5 |
| Zinc | 6,25 mg | 62,5 |
(*) Daily recommended nutritional values (adults) for vitamins and mineral salts as per EU Reg. no. 1169/2011
SRT
Slow Release Technology Modified
release swallowable tablets
1 tablet per day
to swallow with a zip of water at full stomach, after the meal*.
*The product should not be used when the body mass is inferior to 30 kg.
The SDR (Slow Down Release) technology allows a prolonged release of nutritional ingredients over a period of 24 hours. 
Food supplements should not be considered as a substitute of a varied and balanced diet and a healthy lifestyle. Read carefully the warnings and the method of use mentioned on the packaging.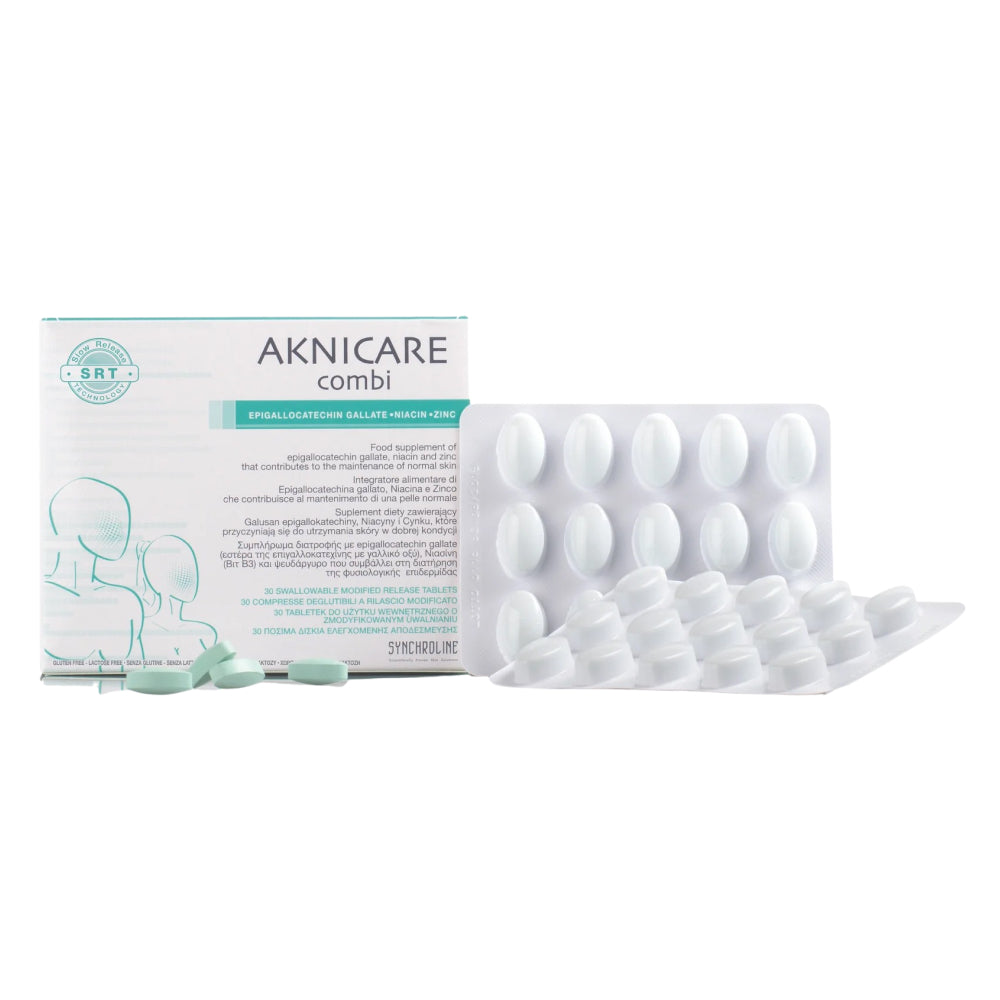 When will you restock?

Want to purchase a product but it is out of stock?

Kindly check with us

if any of the product you wish to purchase is out of stock, or
if you wish to find out whether a product will be restocked, or
when will the new stock arrive.

Whatsapp us now, our friendly team will be happy to assist you!
Can I pick up in store?
How long will it take to ship to me?

We usually fulfil customers' orders within 3 business days after payment is received.

Have further questions? Whatsapp us now.
What is your return policy?

Our returns policy lasts 3 days. If, for whatever reason you are not completely satisfied with your product, we are happy to offer a credit on goods returned to us within 3 days of purchase provided they are in their ORIGINAL packaging, unopened and unused condition.

Kindly email us at theartisanwellness@gmail.com or call us at +65 98187887 prior to any returns.

Refunds are not allowed.

To complete your return, we require a receipt or proof of purchase.

Please do not send your purchase back to the manufacturer.